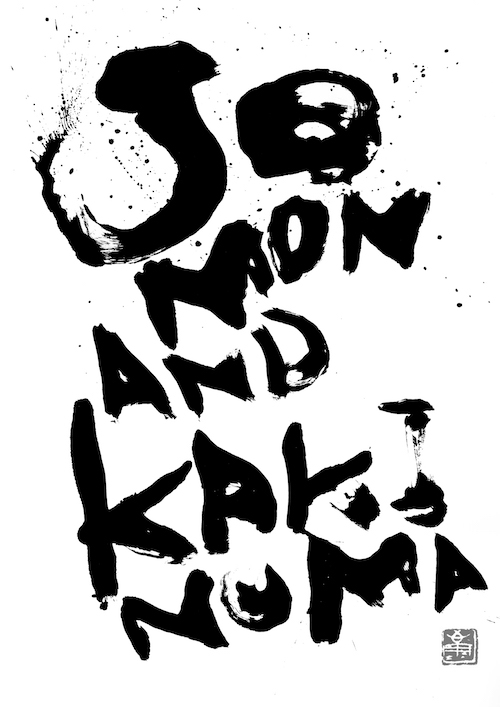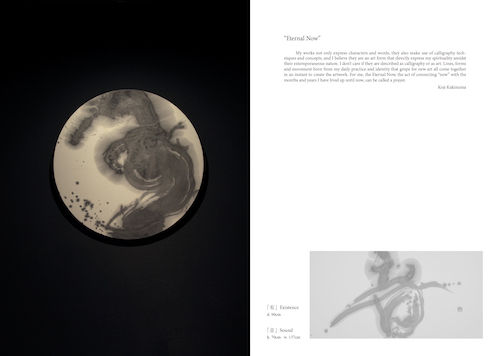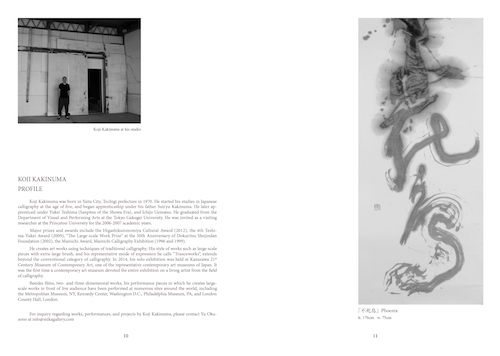 JOMON AND KAKINUMA
Mika Gallery / Shouun Oriental Art
ASIAN ART IN LONDON
JOMON AND KAKINUMA
3 – 10 November 2016
Brian Haughton Gallery, 2nd Floor, 15 Duke Street, St. James's
London SW1Y 6DB
Exhibition Hours
Monday – Friday 10.00 – 18.00
Saturday, 5 November 10.00 – 17.00
Sunday, 6 November 12.00 – 20.00
We are thrilled and greatly honored to have this Äsl199Äslmult0 opportunity to introduce prehistoric Jômon works alongside Äsl199Äslmult0 works by the contemporary artist, calligrapher Koji Kakinuma. Äsl199Äslmult0 Jômon pots and Dogû figurines have long been strictly viewed Äsl199Äslmult0 as archaeological materials. The avant-garde artist Tarô OkaÄsl199Äslmult0 ­Äsl199Äslmult0 moto praised Jômon pottery and Dogû as the ultimate form of Äsl199Äslmult0 avant-garde art in the prehistoric era and this has led some Äsl199Äslmult0 people to recognize Jômon works as art. I have continually Äsl199Äslmult0 considered and handled Jômon works since I established Äsl199Äslmult0 Shouun Oriental Art in Tokyo thirty years ago.
Today more and more people are becoming interested in Jômon works. The major 2001 Japan cultural exchange project introducing Japanese culture in England was a great turning point in this regard. Large-scale programs introducing Japanese art were held alongside Japanese arÄsl199Äslmult0 ­Äsl199Äslmult0 chaeological exhibitions at the British Museum, the Fitzwilliam Museum and the National Museum of Scotland. An impressive number of Jômon pots and Dogû were displayed in these events. The British Museum's Dogû exhibition was even Äsl199Äslmult0 brought to Japan, where it evoked a great reaction. Given this history, we are extremely stimulated and pleased to have Äsl199Äslmult0 this opportunity to present our first display of Jômon works in London.
And then there is Koji Kakinuma, who is both renowned as a traditional calligrapher and at the same time, heralded as a contemporary artist.
In recent years Kakinuma has been most fascinated by and deeply engaged with the theme of "now," and this exhibition also features a few of his latest Circle Works with their own particular sense of three-dimensionality. Like the Jômon potters who worked in the prehistoric era and their pots existing "now", the artist conveys his sense of "now" in the works he creates, and indeed, a "now" of the future thus exists.
  We hope that you enjoy this juxtaposition between the prehistoric and contemporary in this art that reveals the universal and ever-changing "now."
Mika Kiritani
Jōmon Pottery and Dogu A Summary
Period
_     The appearance of Jōmon pottery dates back to the prehistoric times of the Jōmon period (11,000BC- 400BC). Today, over seventy different styles of Jōmon pottery have been found in the Japanese Archipelago. These different styles can be divided into categories by geographical area, pattern, and the six different periods listed below.
Making of Jōmon pottery
_     Jōmon pottery making did not use a potter's wheel. Instead, the potters used cords of clay which were placed on the edge of the base and then stacked on top of each other. After the basic form of the pot was created, the surface was smoothed and polished using a spatula, pebbles, or shells as tools. After the pots had then been decorated with patterns using cord, bamboo, or shells, they were fired outdoors with wood.
Originality and characteristics of the Jōmon pottery
_     The pottery was named "Jōmon", which means "cord mark," when an American zoologist Edward S. Morse called the pots cord-marked pottery in 1877. At around this time in the prehistoric era, pottery around the world had been patterned using a board with cords tied to it as an imprint; however, the characteristic patterns on Jōmon pots were made using a cord that had a complex continuous twists on both sides. Today, over fifty types of cord patterns have been found.
_     The appearance of three-dimensional decoration dates from the middle Jōmon period: this includes complex spiral patterns, protruding decorations, and geometric patterns. Patterns suggesting clouds, water and fire, narrative, and motifs such as snakes and other animals are only part of the enormous variety of expression at the disposal of the Jōmon potters.
_     In the following Late and Final periods, many forms of pots were created. The Kamegaoka pottery in the Tohoku region in particular produced not only deep pots, but bottles, bowls, cups, pots with four legs, fretworks and pedestals, incense burner-shaped pots, and lidded pots. These are examples of traditional forms of pots that are still made today. Furthermore, the Jōmon potters began to use refined clay and realized a thin and durable pottery. By shining the surface they made the pots less permeable to water, and they also began to use a red paint called "Ni" to decorate the pots.
Dogu
_     Among Dogû types, the so-called Shakôki Dogû form is named for its eyes that resemble the snow-glare shielding goggles worn by the Inuit people. In fact the eyelids could actually be shut or it could be an exaggerated expression. The entire hollow body of the form is decorated with tattoo-like designs. Various other types of Dogû were created alongside these Shakôki Dogû in the late Jômon period. In most instances, these figurines were intentionally broken and buried. This has meant that few are found intact, with most in some variation of partial form, with just the head or torso present, or lacking legs. Fragments of Dogû that have occasionally been found a considerable distance from their main body form suggest there was some specific reason for their burial.
"Eternal Now"
_     My works not only express characters and words, they also make use of calligraphy techniques and concepts, and I believe they are an art form that directly express my spirituality amidst their extemporaneous nature. I don't care if they are described as calligraphy or as art. Lines, forms and movement born from my daily practice and identity that grope for new art all come together in an instant to create the artwork. For me, the Eternal Now, the act of connecting "now" with the months and years I have lived up until now, can be called a prayer.
Koji Kakinuma
KOJI KAKINUMA
PROFILE
_     Koji Kakinuma was born in Yaita City, Tochigi prefecture in 1970. He started his studies in Japanese calligraphy at the age of five, and began apprenticeship under his father Suiryu Kakinuma. He later apprenticed under Yukei Teshima (Sanpitsu of the Showa Era), and Ichijo Uematsu. He graduated from the Department of Visual and Performing Arts at the Tokyo Gakugei University. He was invited as a visiting researcher at the Princeton University for the 2006-2007 academic years.
_     Major prizes and awards include the Higashikuninomiya Cultural Award (2012), the 4th Teshima-Yukei Award (2009), "The Large-scale Work Prize" at the 50th Anniversary of Dokuritsu Shojindan Foundation (2002), the Mainichi Award, Mainichi Calligraphy Exhibition (1996 and 1999).
_     He creates art works using techniques of traditional calligraphy. His style of works such as large-scale pieces with extra-large brush, and his representative mode of expression he calls "Tranceworks", extends beyond the conventional category of calligraphy. In 2014, his solo exhibition was held at Kanazawa 21st Century Museum of Contemporary Art, one of the representative contemporary art museums of Japan. It was the first time a contemporary art museum devoted the entire exhibition on a living artist from the field of calligraphy.
_     Besides films, two- and three-dimensional works, his performance pieces in which he creates large-scale works in front of live audience have been performed at numerous sites around the world, including the Metropolitan Museum, NY, Kennedy Center, Washington D.C., Philadelphia Museum, PA, and London County Hall, London.
_      For inquiry regarding works, performances, and projects by Koji Kakinuma, please contact Yu Okuzono at info@mikagallery.com
MIKA GALLERY
595 Madison Avenue 8f Fuller bldg.
New York. NY 10022 USA_
info@mikagallery.com_
www.mikagallery.com_
SHOUUN ORIENTAL ART
1-5-15 Ginza Chuo-ku Tokyo. Japan
81-3-3535-1007 info@shouun.co.jp_
www.shouun.co.jp
Tokyo inshokan printing Co, LTD.
Title "Jomon and Kakinuma" by Koji Kakinuma